Travel by train in Sri Lanka
The best routes with panoramic view
Colombo to Kandy,
Kandy to Nanu Oya,
Coastline trains Matara to Colombo
---
Our Services
You can reserve your tickets with us before you arrive in Sri Lanka .
Check the availability for seats.
Pick up from the airport and transfer by car to the nearest or any railway station in the country
---
Time table for major destinations
06.10a.m. Intercity Express – Colombo Fort to Matara – 2nd & 3rd Class
04.10.p.m. Intercity Express – Matara to Colombo Fort – 2nd & 3rd Class
| | | |
| --- | --- | --- |
| Train No. | Departure | Remarks |
| 05 | 05.55a.m. | Podi-Menike – Colombo Fort to Badulla – Observation Saloon. |
| 06 | 08.30a.m. | Podi Menike – Badulla to Colombo Fort – Observation Saloon. |
| 09 | 07.00a.m. | Intercity Express – Colombo Fort to Kandy – Observation Saloon & 2nd Class Reserved Seats. |
| 10 | 03.00p.m. | Intercity Express – Kandy to Colombo Fort – Observation Saloon & 2nd Class Reserved Seats. |
| 15 | 08.30a.m. | Udarata Menike – Colombo Fort to Baddulla – Observation Saloon. |
| 16 | 05.45a.m. | Udarata Menike – Badulla to Colombo Fort – Observation Saloon. |
| 29 | 03.35p.m. | Intercity Express – Colombo Fort to Kandy – Observation Saloon & 2nd Class Reserved Seats. |
| 36 | 06.30a.m. | Intercity Express – Kandy to Colombo Form – Observation Saloon & 2nd Class Reserved Seats. |
| 07 | 09.45p.m. | Night Express – Colombo Fort to Badulla – 1st Class Sleeping Berths, 2nd & 3rd Class |
| 48 | 05.50p.m. | Night Express – Badulla to Colombo Fort – 1st Class Sleeping Berths, 2nd & 3rd Class |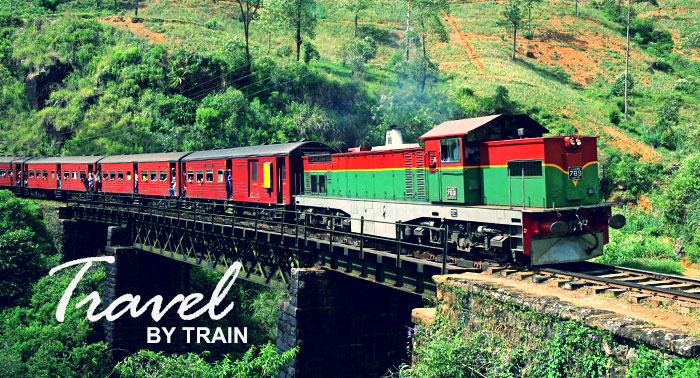 Hints to passengers
Do not crowd near booking office windows. Keep the exact amount due on your ticket to be handed over at the booking office counter . For any information's please don't enter to the railway tours office at Colombo Railway station because that's not managed by the Government.
---
Be at the station at least 15 minutes before the arrival of your train.
---
Never enter a railway carriage or platform without first, providing yourself with the ticket and always examine
whether the tickets handed over to you and balance is correct before leaving the ticket counter.
---
Please show your ticket to railway officers who are there to examine your tickets when requested. They are only trying to take away those who are not having any tickets to enable you to be more comfortable during your journey.
---
Do not accept parcels given by strangers for safe-keeping nor partake any foods given by them.
---
Please be civil and obliging to other fellow passengers, especially elderly people, children and pregnant mothers.
---
Never cross the railway track at a station where an over-head bridge or underground sub-way is provided, unless you are permitted by the Station Master to do so.
---
Please place your luggage on the over-head rack or under the seats of your compartment to keep corridors and pathways clear.
---
Passengers are advised in their own interest to bring to the notice of the Head Guard of the train or the Station Master if at a station, about any dubious persons on train.